I always been fascinated by the raw musical power that an orchestra can express. After creating a series of videos where I'm performing a multi-track piece with a single instrument I designed, I decided to take the concept a step farther and create my own orchestra made of unusually unique instruments.
Few years ago I started customizing classical strings instruments, the first one was the Experibass.
The name came to my mind when I joined the words Experiment and Bass, because an experiment was exactly the concept behind the instrument; joining several parts from the strings family into one instrument.

The Experiviolin has the body of a violin, the neck of an electric guitar and acoustic guitar strings.
It only has 2 strings because the neck of the guitar is flat and having 4 strings like a regular violin would make playing it unpractical. It still retains some of the tonal colors of a violin but the tone is different.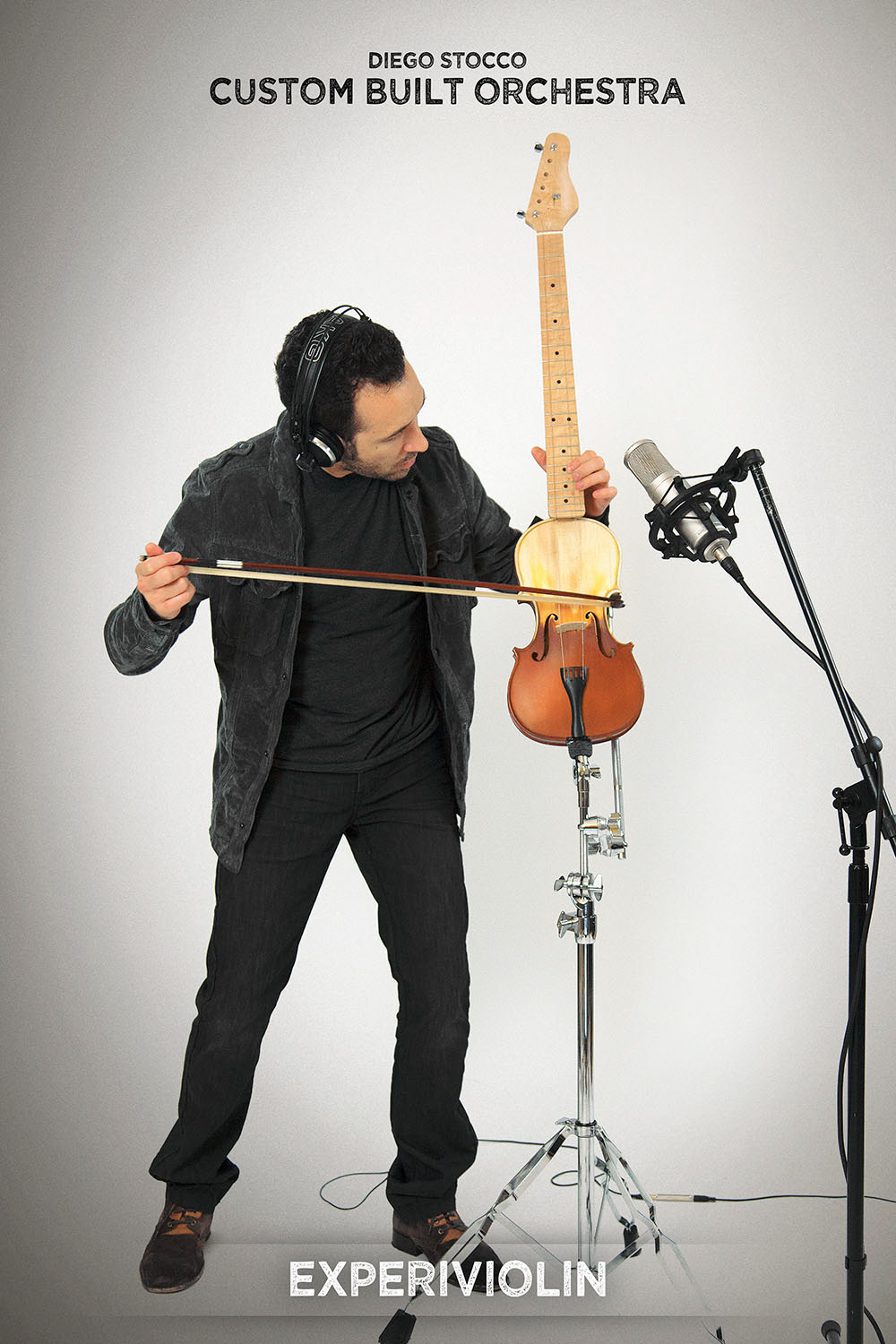 The starting point of the Expericello was a damaged cello. I removed the majority of the front to insert a zither, so that the additional strings create sympathetic resonances (like in a sitar).
It has two double bass strings and two piano strings. I played it by pinching the strings since there's no fingerboard.
The Experibass combines a violin, viola and cello neck on the body of a double bass. It has a unique and recognizable sound also due to the way I play it.
Here
you can watch the first video I made right after I built it.
With this instrument I performed as a Featured Soloist on the film "Sherlock Holmes" and the video game series "Assassin's Creed".
I built this instrument by using a tree branch I found on the street. It's an electro-acoustic instrument amplified with a pick up and a built-in piezo microphone. It has three sections, the bass with a fretted metallic neck, a two strings cello-like section and a vertical double bass string that can be played by pinching it. It can be played with a bow, a chop stick, small metallic bars and guitar picks.
This is an instrument based on light bulbs, more precisely, the sound is created by the internal tungsten filament. I pierced the light bulbs with a flame torch and placed an electret microphone inside each one.
The shape and size of the filament, as well as the position of the microphone, determines the sound. The sound is then processed in real time so that the pitch can be controlled with more flexibility.
This instruments produces mostly overtones due to the restricted air passages.
It combines a penny whistle, plastic pipes and the bell of a trombone.
The basis for this instrument is an old auto-piano. I personalized it with a custom tuning so that single keys can also play chords. Above the hammers I added metal washers (handpicked based on their root note) that are struck with a rudimentary system of metal bars attached to the piano actions. For this instrument I wanted to create a bell-like timbre so I detuned the strings at specific intervals and at different octaves.
This instrument is built around a squared metal bar with two thick elastic cords amplified with piezo mics. It can be played tonally by pressing the cords in various position. It makes a very low and thumping sound, it's useful as a tonal percussive instrument.
For this percussive instrument I combined several objects that I picked based on their note.
There's a metallic spatula, a long metallic bar, two cutlery containers, a fruit plate and clock bells.

I combined two frame drums. It produces a lower and fuller sound than a single frame drum.
​​​​​​​
11. Harpiano/Soundboard Percussions
I repurposed this old piano board into a percussive instrument and also played it like a harp.
For those of you into technical details, this is the gear I used to record.
API 512c preamps, 550b EQs, 527 Compressors, and Apogee Ensemble as the converter.
Microphones, Røde NT5, NT2-A and K2, plus an AKG D40.